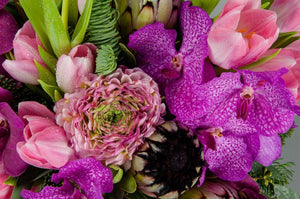 Seasons gives you the unique opportunity to treat that special someone in your life to an exquisite floral arrangement every month of the year!
With "A Year of Flowers" we will send a beautiful arrangement of our finest blooms to the one person who holds that special place in your heart. We will deliver an arrangement each month with a personalized note from you.
Upon your purchase, a Seasons team member will reach out to you to discuss the delivery schedule and any floral restrictions you may have.
Please select "Pick-Up" when checking out for a complimentary delivery.