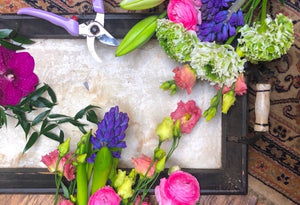 Invite your friends and family and learn the fine art of floral design in your home from one of our master designers! This one hour experience allows you to explore the beauty of nature in your home and at the same time, feed your creative soul.
Includes:
A live interactive demonstration via Zoom.
An extraordinary collection of Seasons' finest blossoms
One of our classic vases and floral food
Please have your kitchen clipper handy. 
Appropriate for ages seven and above.

This experience is priced at $125.00 per person. A minimum of two tickets are to be purchased in order to participate.